.
I don't know how you're most likely to know of Adam Koford's work. Maybe his Friend illustrations?
His ubiquitous twitterfied famous people?
His Hodgman collaborations in print and on Comedy Central?
One of his many many tshirt designs on Woot or Threadless?
Or a million other things like his work on Disney video games and in MAD Magazine and greeting cards and and and—just google him.
Anyway, when I think of ol' Apelad, the first thing I think of is his Laugh-Out-Loud Cats, an old-timey hobo-style comic now in the thousands of entries which he's been putting online and in books for years now. He captures the look and feel of a hundred years ago, and combines it with cats that can haz cheezburgers. Or stogies, as the case may be.
At times it's repetitive, but he's always playing with the form in some way, and recently has tried placing the characters in a more extended story.
In the last few months he's taken on lolcats anew with a classic four-panel called The Lowell Cats. To the casual observer, this strip might seem as soulless as the modern newspaper comics it's commenting upon, but Koford is playing with the form, subverting the lame jokes newspapers fell safely into decades ago and arriving somewhere fresh and funny within those constraints—or sometimes in tension with those constraints.
[Disclaimer: Not all newspaper comics are bad. But that some for-decades-now abysmally unfunny strips are still taking up space.]
The strip consists of four characters: the human couple, Linda and Lloyd Lowell, and two cats left on their doorstep.
[Note: I can't get Flickr/Wordpress to play nice and let me resize/center. Sorry for the lack of elegance.]
This is the first strip. We get the four leads and a clear sense of genre. But while Koford enjoys scratching Lloyd up, he's just as able to demonstrate his cats-are-haha-evil premise without relying on that easy effect.
On the surface, none of this is much different than the hijinks of monster cats like Garfield or Heathcliff-–there's even jokes about shedding and cat food—but unlike those orange-and-black standbys with thought bubbles perched over their heads, Orange and Blue are inscrutably alien and therefore more menacing, and, paradoxically, also much, much cuter. They are, in short, evil Buster Keaton stonefaced cats.
Because the cats don't supply their own easy punchlines, the nature of these could-have-been-standard punchlines can be morphed into something new. Imagine any of these as a Garfield strip, and you have to imagine a heavily projected joke in place of Koford's simple sidestepping: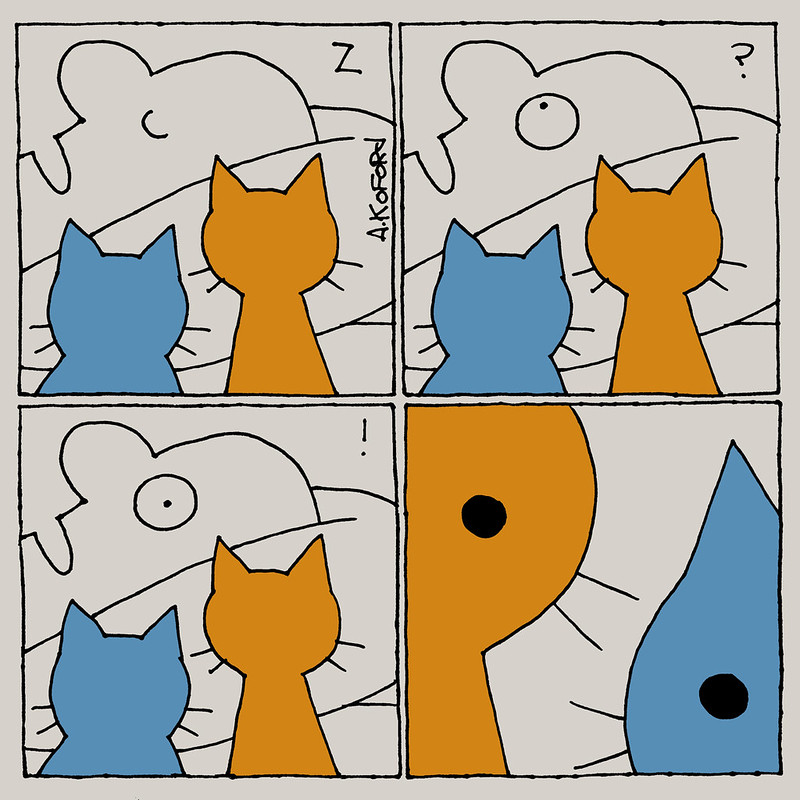 These are visual gags from an artist who has studied the craft, who knows his Krazy Kat as well as his Blondie, who mixes and matches with aplomb. That a strip about two disaster-causing cats can provide a pleasurable freshness in 2015 is hard to fathom—and granted, not all the strips kill—but this is highly entertaining stuff worthy of a read. Word on the street is, Lowell Cats will only continue a short while longer. Start now and still collect some hipster cred.